Cruising Guide and Sailing Charts to Ouvea New Caledonia
Ouvea is an atoll, located an overnight sail from Noumea and from Port Vila, Vanuatu.
Ouvea has the most beautiful beach in the world. There, that says it all. Sail to Ouvea to enjoy the clear lagoon and leave your footprints along the vast expanse of pure soft white sand.
Foreign yachts must clear into Noumea before sailing to Ouvea. Yachts can't clear in or clear out of Ouvea without making special preparations in advance.
The Cruising Guide to New Caledonia has exact, high resolution photocharts and sailing directions for every anchorage the Ouvea and Beautemps Beaupre atolls. You will see exactly where to anchor with precise sailing directions, GPS coordinates, depths, reefs, nav aids and lights, and even nearby treks ashore, shops and fuel service stations.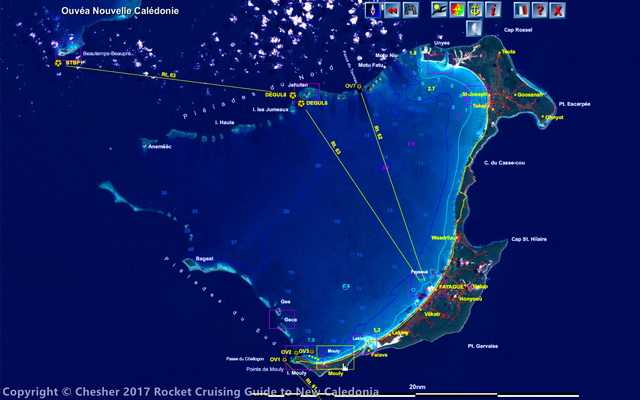 Navigation chart of Ouvea in the Loyalty Islands from the Rocket Cruising Guide to New Caledonia.
In the companion Rocket Travel Guide to New Caledonia you will find where to rent a car, available tours, interesting places to visit, the contact details and location of the dive operator, cultural requirements, restaurants and accommodations.