Shipyards in New Caledonia
There are four commercial shipyard haulout facilities in Noumea.
Nouville Plaisance
Nouville Plaisance is the largest slipway for pleasure yachts in New Caledonia. It is operated by SODEMO - the same group that manages Port Moselle Marina.
Nouville Plaisance is a yachting repair centre with a complete range of chandleries and yacht services. The travel lift will handle boats to 50 tons, maximum width 6.2 metres.The shipyard has a clean cement hard stand with provisions for long term storage, video surveilance, toilets and showers,and lifting crane.
Phone : +687 26 53 77 Fax : +687 28 53 77
VHF 69 call sign Nouville Plaisance. Their website is here
You will find complete details of Nouville Plaisance on the Cruising Guide to New Caledonia
CarenOcean
CarenOcean is located in Baie de Numbo. It has a marine railway capable of handling most catamarans and trimarans, a work dock with access for a crane and a limited hard stand area for working on smaller yachts.
Neptune Entretien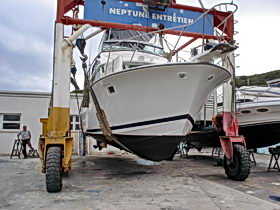 Neptune is also in Baie de Numbo and both Neptune and CarenOcean share the same management. Neptune has a travel lift for monohulls, maximum 34 tons, 15 metres long, 5 metres wide and a draft of 2.1 metres.
Neptune also has a hydraulic cradle designed to lift and carry catamarans maximum 18tons, 18 metres long. They are then placed in work areas on the grounds.
Neptune is a dealer for Man and Nannni Diesels and has a mechanic, machine shop, alumium fabrication specialist and an area for painting.
Both CarenOcean and Neptune can be contacted at Tel: +687 77 41 44
email neptune @ offratel.nc
Port Autonome
Port Autonome Nouvelle Caledonie operates two marine slipways in the Petite Rade - a smaller one for vessels up to 200 tonnes and a larger one for vessels up to 1000 tonnes.
Contact details: Tel : (687) 25 50 16 - GSM : 79 81 01
Costs for the Port Autonome shipyard facilities are are available here.
To Facilitate Reservations and information contact Noumea Yacht Services